Chalkstream Fly Fishing in Hampshire
Fishing Breaks offer the widest selection of the very best chalk stream brown trout dry fly and nymph fishing in the county of Hampshire.
Our rivers | Your guide | Places to stay | Fishing advice and flies | Maps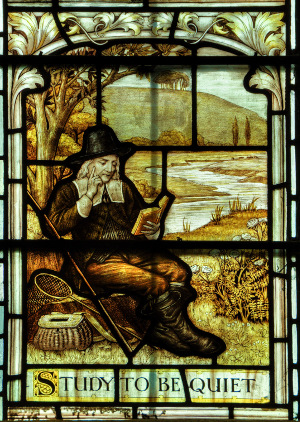 Hampshire is the pre-eminent chalkstream county, where the Test and Itchen are the undisputed masters of the dry fly universe. At every twist and turn history and fishing come together.
Izaak Walton, who published one of the most reprinted books of all time The Compleat Angler in 1653, has a place in the history of the county. He lived for the latter portion of his life in the county capital, Winchester. His tomb is in the Silkstead Chapel of Winchester Cathedral, a chapel dedicated to anglers and worth a visit for the special stained-glass window.
It was on the banks of the River Test that Frederick Halford honed his ground-breaking thoughts that effectively 'invented' modern dry fly fishing in the late 1800's. And while he held court on the Test, George Skues, just 15 miles to the east on the River Itchen, was about to unleash the concept of nymph fishing and receive a mixed reaction for his troubles.
You can truly say that when you tread the riverbanks of Hampshire you are following in the footsteps of giants.


Our rivers
The home of the Mountbatten family.

Four long, very private, gin-clear beats.

A beautiful stretch with deep pools, fast runs and lazy back eddies.

A perfect blend of wild and manicured fishing

The true and historic home of dry fly fishing.

A Fishing Breaks favourite for over 20 years.

Packed with fish and with great facilities.

River Test Timsbury 5 NEW FOR 2021

Fast flowing carriers and main River Test combination

Delightful tributary of the River Test for bank fishing and wading



Beautiful beats in a tranquil parkland setting.

Perfect for stalking and sight fishing.

Unstocked, wild and with some wading if you wish

Gin-clear carrier of the River Itchen

River Itchen Breach Farm NEW FOR 2021

A long and wide, gliding beat

River Itchen Kanara

Head here for great chalkstream wading

Great for singles or small groups

A hidden gem

One of Hampshire's most untouched chalkstreams


Your fishing guide - John Stephens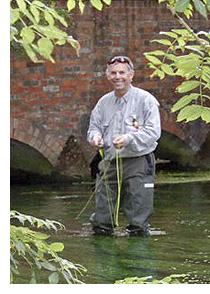 John Stephens was born close to the banks of the River Avon at Salisbury Hospital in Wiltshire, the river on which he caught his first trout on a dry fly at the tender age of ten. As one of the longest serving Fishing Breaks guides John knows all the Hampshire beats like the back of his hand. You will not find a more patient or knowledgeable guide anywhere.
You may read more about John Stephens on the Fishing Guides page. If you wish to pick John's brain, email him directly at john@fishingbreaks.co.uk All diary and booking enquiries should be made direct to Fishing Breaks.

Places of interest
View the full Fishing Breaks accommodation guide

Fishing advice and flies
In broad terms the trout fishing season runs from April to early October, with grayling fishing until Christmas. The hawthorn hatch will be in late April, the mayfly from mid-May to early June. The summer is great for a variety of caddis, olives and terrestrials. For more fishing advice and to buy flies click here.
Top Hampshire Flies:
April
Dark Olive (14/16)
Hawthorn (14)

May
Mayfly (8-10)
Black Gnat (14-18)

June
Greenwell's Glory (14-16)

July
Iron Blue (14)
PTN (141-6)

August
Deer Hair Sedge (12-14)
GRHE (16-18)

September
Griffiths Gnat (16)
Daddy Long Legs (12)
Recommended outfit: 8½ ft rod, with 3-5wt floating line. Tippet to 2lb/6x. Most beats do not require wading.

Maps