FLY PACKS & SELECTIONS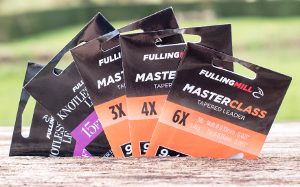 A FREE tapered leader with every fly pack
I have selected these flies to suit every chalkstream challenge. Use the packs by the month, season or collection in conjunction with my Hatch Calendar which available online or in print.
All packs include a FREE tapered leader (RRP £2.75), the length and tippet strength are chosen to suit the style of precision presentation required.
Post and packing is FREE in the UK for everything BUT an order of a lone single pack. Call or email for overseas shipping costs.
---
THE ULTIMATE CHALKSTREAM FLY COLLECTION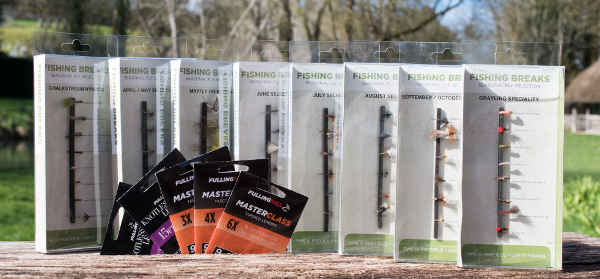 The Ultimate Chalkstream Fly Collection (seven packs)
£119.00 Add to cart
Order all seven packs, which includes seven tapered leaders, (grayling selection sold separately) and I will send you a free copy of my Hatch Calendar.
Running to eighteen pages it is packed with photographs, illustrations and advice to cover the entire chalkstream season. See how, where and when to the use the flies in each pack.
HATCH CALENDAR SELECTION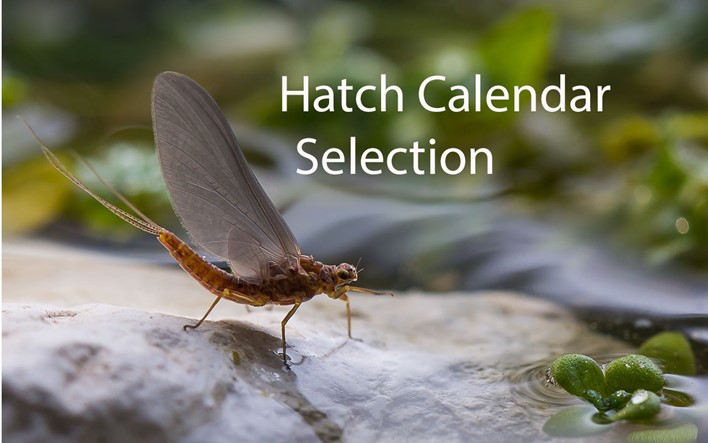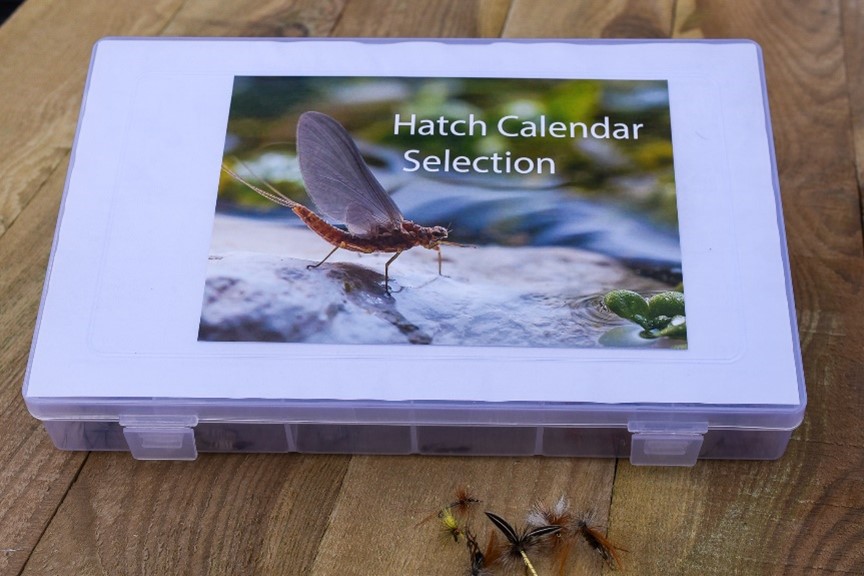 My Hatch Calendar Selection is a new, and I believe unique, resource that takes the guesswork out of picking the right fly. With password protected access to my subscriber-only web page you will be able to match the hatch to pick the right fly, for the right moment for any given time of day on a chalkstream.
So, for instance, a Black Gnat is illustrated and described as below as are all the other 35 patterns.
36 proven chalkstream patterns tied by Fulling Mill
A size for every occasion
A photo of each fly with a description of when, where and how to use it with my useful tips
When in doubt check the image of the natural to match the hatch
Instantly check which tippet size to use
Refine your selection by month, time of day and type of fly
When you buy the Hatch Calendar Selection not only will you receive a fully prepared fly box but also access the subscriber-only web page. Alternatively, buy an Annual Subscriber Pass.
Black Gnat
Type: Dry

Imitates: Gnats & Reed Smuts

Month: Apr-Sep

Time of Day: All Day

Sizes: 14 16

Tippet: 4X - 6X

A generic name for a variety of small flat winged terrestrials that hatch in abundance. Trout will feed avidly when they get the taste for them. Sometimes, dispense with floatant to use a bit of spittle to 'drown' your gnat in the surface film.
78 Fly Hatch Calendar Selection
Lifetime Subscriber Pass membership (£35 annual saving)
Unlimited access to web site for all time
Easy QR code login with your phone
Fly box
Labelled fly compartments
At least 2 sizes of every pattern
3 sizes for the six universal patterns
5 complimentary leaders 7x/6x/5x/4x/3x
20% Discount on refill packs
Free post and packing to UK addresses
£149.00 Add to cart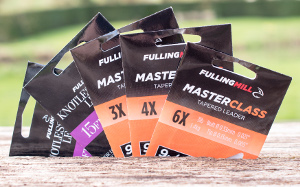 Annual Hatch Calendar Subscription
Annual Subscriber Pass membership
12 months unlimited use
Easy QR code login with your phone
Regular updates
25% discount on annual renewal
£35.00 Add to cart
You will receive instructions of how to create your Subscriber Account shortly after placing your order.





FLY PACKS BY MONTH & SEASON
Single Packs
inc. 1 leader

April/May
Adams
Large Dark Olive
Grannom
Hawthorn
Iron Blue Dun
KJ Olive Emerger
Knotless 9ft 4lb/5x tapered leader


£16.95 Add to cart


Mayfly
Flyline May
French Partridge
Green Drake May
Grey Wulff
Spent Mayfly
Thomas's Mayfly
Knotless 9ft 6lb/3x tapered leader

£17.95 Add to cart


June
Blue Winged Olive
CDC Hare's Ear Shuttlecock Emerger
Elk Hair Caddis
Grey Adams Klinkhammer
Parachute Adams
Sherry Spinner
Knotless 9ft 3lb/6x tapered leader

£16.95 Add to cart


July
Cinnamon Sedge
Daddy-Long Legs
Gray Wulff
Greenwell's Glory
Infallible Emerger
Pale Watery Dun
Knotless 12ft 3lb/6x tapered leader


£17.95 Add to cart


August
Black Ant
Foam Beetle
Klinkhammer Green Caddis
Knotted Midge
Lunn's Particular
Saville Super Silver Sedge
Knotless 12ft 2lb/7x tapered leader

£16.95 Add to cart


September & October
Black Gnat
Goddard Natural Sedge
Kite's Imperial
Yellow CDC Emerger
Royal Wulff
Tup's Indispensible
Knotless 9ft 3lb/6x tapered leader


£16.95 Add to cart


Chalkstream nymphs
Damselfly Nymph wtd
Gold Ribbed Hare's Ear
Gold Ribbed Hare's Ear Gold Nugget
Pheasant Tail Gold Nugget
Pink Shrimp
Red (Superglue) Buzzer
Sawyer's Pheasant Tail Nymph
Walker Mayfly Nymph wtd
Knotless 12ft 3lb/6x tapered leader

£16.75 Add to cart


Grayling Specialty
Grayling Pink Bomb
Grayling Witch
Green Shrimp
Killer Bug
Natural Hare's Ear with bead
Pheasant Tail with bead
Red CDC Shuttlecock Emerger
Red Tag
Knotless 12ft 2lb/7x tapered leader


£16.75 Add to cart
2 Packs
inc. 2 leaders
My pack selections to keep you covered for each eventuality
3 Packs
inc. 3 leaders
Trout don't always observe the monthly calendar! Three packs for each season.
Order today and your flies will be with you in 3-5 days unless stated otherwise.. Orders are dispatched by first class mail from Nether Wallop Mill.

Fishing Breaks Ltd, The Mill, Heathman Street, Nether Wallop
Stockbridge, Hampshire SO20 8EW
Tel: 01264 781988. Fax: 01264 782590. E-mail: info@fishingbreaks.co.uk