Fishing Guides
Chalkstream fishing is not difficult but it is probably different to anything you may have experienced elsewhere. A Fishing Guide is a useful addition for any fishing trip providing advice, tackle, flies and local transportation.

If you are not familiar with the term it is best to look upon a proper Guide as a blend of knowledgeable gillie, qualified instructor, amiable fishing companion, local tour guide, chauffeur and portable tackle shop all rolled into one - for that is what we aim our Guides to be.

All our Guides are true chalkstream experts, with a strong background in fly fishing tuition – indeed they all have nationally recognised qualifications. Read more about our guides
But more than that they are engaging and informative companions on the riverbank, blending information, hints and anecdotes to help you get the best from the day. They will know the best local pub for lunch, transport you from hotel to river if required and carry a full stock of flies, tippet material and chalkstream outfits.
The Guides are available for hire by the day; the daily fee covers all the extras, including flies. All we ask is that you tip the Guide at the end of the day if everything has been to your satisfaction. Sharing a Guide amongst your party is absolutely fine; we recommend a ratio of one Guide to two fishermen.
Our Fishing Guide fee includes all of the following:
• Chalkstream outfits
• Flies and tippet materials
• Net and polarised sunglasses
• Local transportation
• Full day on the river
Location: River beat of your choice (at additional cost)
Price includes all guiding and tuition services (9.30am-6pm), tackle, local transportation and VAT.
About Our Guides
Alan Middleton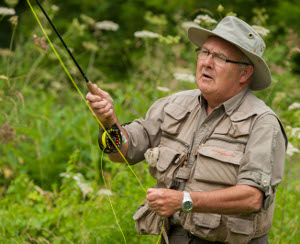 Despite over three decades living in Sussex Alan's accent soon reveals his Geordie roots, born and bought up in County Durham. For most of his professional life Alan was in the household chemicals business and many of the familiar bottles under your kitchen sink Alan will have had a hand in at one time or another.
Now retired Alan spends his time guiding, looking after his fishing on the River Ouse and in the winter enjoys beating and picking up with his dogs on the local shoot. He recently completed 10 years as Chairman of the Fly Dressers Guild.
First fish: A sprat off South Shields pier
Dream fishing destination: Montana, USA
Dry fly or nymph: Dry fly
Item of fishing tackle to send to Room 101: Hook threaders
Favourite film: The Great Escape
Fishing hero: Donald Downs
Favourite food: Steak
Would you teach your wife to fish? There would be no point in teaching my wife to fish; like all women she knows everything already!

Tony King
Of all our Guides Tony King has to be the most travelled having caught a fish (species unspecified!) in every continent of the world. Equally at home with a salmon, trout or saltwater rod in his hand, Tony is a highly accomplished fly fisher with a natural eye for teaching. He covers all the disciplines running our saltwater and salmon classes and specialises in guiding on the Dorset streams.
Born and raised in the south, Tony now lives in Weymouth, Dorset overlooking Portland Bill with one of the best vantage points for the sailing during the 2012 Olympics.
Earliest fishing memory: Catching bleak on the River Lee with Uncle Den
Dream fishing destination: Any small atoll in a big ocean
Dry fly or nymph: I enjoy both equally
Most memorable fishing day: Catching a 27lb Salmon in my back garden
Item of fishing tackle to send to Room 101: Overly stiff rods
Favourite film: Mr Hulot's Holiday
Favourite food: Fresh mackerel, fresh peas, and mashed potatoes with mushroom sauce
Fishing hero: Richard Walker
Would you teach your wife to fish? It would not be my first choice of activity
Best fishing related joke you have ever heard: "Anyone who thinks they know a lot about fishing hasn't done enough yet."
John Stephens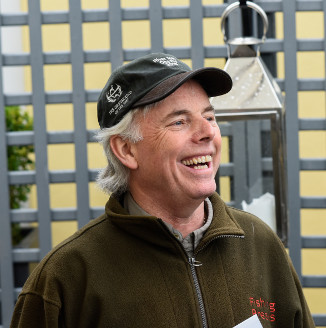 John Stephens was born close to the banks of the River Avon at Salisbury Hospital in Wiltshire, the river on which he caught his first trout on a dry fly at the tender age of ten. He spent his formative years on the Avon at a time when Frank Sawyer, inventor of the Pheasant Tail Nymph, was still active. As a young boy John frequently met Sawyer but never realised the legend that Frank had become by that time.
First fish: A mullet in Spain
Most memorable fishing day: Catching my first trout on a fly (a dry fly!), when I was about 10 years old on the river Avon at Enford in Wiltshire
Dry fly or nymph: Dry fly
Item of fishing tackle to send to Room 101: 99% of flies sold
Would you teach your wife to fish? I did and we are still married.
Best fishing joke: Q. "What time do the fish rise?" A. "Before you arrive, after you go home and sometimes at lunch time depending on whether you go to the pub or not."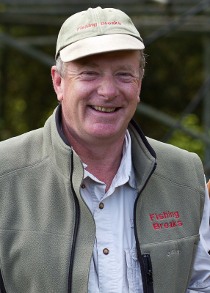 Mark Bedford-Russell
Mark spent his working life in the Lloyds insurance market before making a career changing decision by moving to Dorset where he divides his time between guiding, beating and helping out on the river. Born in Germany, Mark learnt his fishing with his father on the River Itchen with his formative years spent on the banks of the River Avon, which likely explains his favourite book and prowess with a nymph.
Earliest fishing memory: Fly fishing with my father on the Itchen
Dream fishing destination: Patagonia
Dry fly or nymph: Dry fly
Most memorable fishing day: First salmon on the Spey
Favourite fishing book: 'Keeper of the Stream' by Frank Sawyer
Favourite film: Tin Drum
Favourite food: Shellfish
Would you teach your wife to fish? Yes
Best fishing related joke you have ever heard: With apologies to Tommy Cooper; "Two fish in a tank. One said to the other I'll steer, you man the gun..."
Bob Preston
It is fair to say that Bob probably knows the Berkshire chalkstreams as well as anyone alive that being his 'patch' as it were for more than 30 years whilst working as a Fisheries Officer with the Environment Agency. Bob is truly a walking encyclopaedia when it comes to the any questions on our native fish species.
He is a passionate fishermen; you will find him out in all weathers and he is always exploring new places to fish. Bob has something of a reputation of a heron, spotting fish nobody else has seen, so prepare to catch fish in places you wouldn't think possible. Every year he travels back to his native Austria returning with photos of the gorgeous rivers and some truly unusual fish.
Earliest fishing memory: Catching one of the whitefish species – exact species unknown – from the Millstattersee in Austria aged 6. First trout in Wales on a worm after many attempts aged 11. First trout on a fly, a size 12 Mallard & Claret from Weirwood Reservoir aged 14. This was followed by 3 more on a black dry fly during a fall of hawthorn flies.
Dream fishing destination: British Columbia tops the list.
Dry fly or nymph: Nymphs for preference, either sight fishing on chalkstreams or deep nymphing on Austrian rivers.
Item of fishing tackle to send to Room 101: Definitely the Blob followed by those who use it and call it fly fishing.
Favourite film: Either "The Longest Day" or "Saving Private Ryan"
Fishing hero: Has to be Bernard Venables. He inspired several generations of anglers. Followed by Richard Walker who taught us that "observation plus thought equals fish".
Favourite food: Good well aged steak – rare.
Would you teach your wife to fish? Lost cause I fear. She's better with a camera taking pictures of me fishing!
Most memorable fishing day: Of the many, probably catching my biggest grayling – 3lbs 14oz in Austria aged 15. A fish I'll probably never better. Closely followed by my second steelhead in BC ten years to the day after my first.

Steve Batten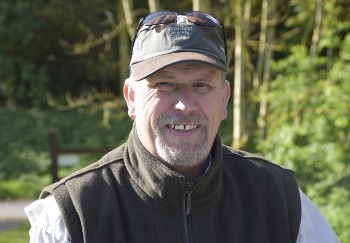 Steve has been fishing since the age of five and started with his grandfather on the beaches of the Solent catching plaice. Since then his passion for fishing has spread over many disciplines pursuing carp, barbel, grayling, trout, salmon and bass.
However his true love is fishing on small chalkstreams for wild brown trout with a short 3wt rod and a dry fly. Steve is also a part time river keeper for the Portsmouth Services Fly Fishing Association and is the Chairman of the Hampshire river keepers association.
Earliest fishing memory: Catching my first grayling at the age of 6
Dream fishing destination: Maldives for bonefish
Dry fly or nymph: Dry Fly
Most memorable fishing day: Salmon fishing on the Isle of Harris with my son as the ghillie
Most memorable catch: 16lb pike on the Fly
Item of fishing tackle to send to room 101: A "Fly" called the Blob, but it's not fishing.
Favourite film: Saving Private Ryan
Fishing hero: My Granddad
Favourite food: Indian or Thai
Would you teach your wife to fish? Yes
Favourite fishing book: Mr Crabtree Goes Fishing
Malcolm Price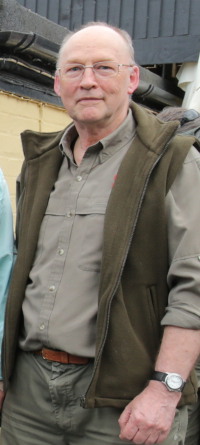 Malcolm can boast that his first ever fish was a childhood salmon; admittedly a salmon parr on a spun worm from the River Roe in Northern Ireland but a salmon nonetheless. However, it wasn't until much later in life when on holiday beside Loch Awe in Scotland with his three young boys to entertain that Malcolm was bitten by the fly fishing bug when they all gave it a try at a small trout fishery.
Back in southern England where he had settled, pursuing a career in computer systems, Malcolm followed up with more success at Rockbourne Fishery on the edge of the New Forest before spying the value of the Salisbury & District Angling Club, of which seventeen years later he is still a member.
Malcolm was one of the founder Guides at the inaugural River Test One Fly in 2008 and was Confederation Secretary for the England fly fishing team. He is now retired from computers with guiding his passion and daily work.
Earliest fishing memory: Walking back from Lough Foyle in Northern Ireland with two flounders in my hands at 9 o'clock at night, only to be met by my two worried parents. I had fresh-caught fish and bread and butter at 10 o'clock that night.
Dream fishing destination: Tjuonajokk Northern Sweden for Arctic Grayling
Dry fly or nymph: depends on what is catching.
Most memorable fishing day: First day at Tjuonajokk – first cast 53cm Grayling on the fast running River Kaitum.
Item of fishing tackle to send to Room 101: Snake flies or Mop flies – I cannot decide which.
Favourite film: Star Wars IV
Favourite food: Pomegranate glazed slow cooked shoulder of lamb.
Would you teach your wife to fish? Yes
Best fishing related joke you have ever heard: Wife after returning from fishing trip with husband to neighbour: "I did everything all wrong again today -- I talked too much and too loud. I used the wrong bait. I reeled in too soon and I caught more than he did."
Ian Pople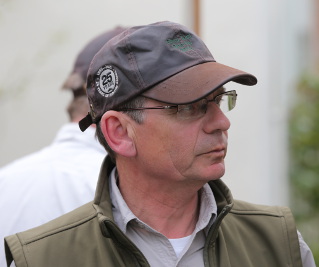 Ian was brought up and has lived the majority of his life on the Hampshire coast. He qualified as a chartered accountant in London and worked for many years in business. More latterly he had his own financial consultancy until the lure of moving water prompted early retirement from all that.
He has been fishing most of his life and in the last 15 years has concentrated almost exclusively on fly fishing. He is passionate about fly fishing and also enjoys passing on new skills and techniques to clients. He is equally at home fishing for trout and grayling on the southern chalkstreams or fly fishing for bass at the western end of the Solent close to his home. When Ian is not fishing you will find him sailing – so he obviously has a thing about water!
Earliest fishing memory: Catching roach on the Norfolk Broads on a family holiday, age 5.
Dream fishing destination: Hmmm – any pristine bonefish flat or New Zealand??
Dry fly or nymph: Dry if practical.
Most memorable fishing day: Nearly every fishing day is a memorable in some way but the one when I caught a 7lb bonefish was special.
Item of fishing tackle to send to Room 101: Braided loops
Would you teach your wife to fish? Yes. I can say that safe in the knowledge that it will not come to pass because when I taught her to sail she ended up crossing the Atlantic Ocean in a small sailing boat with me, and has learnt not to express any interest in any new thing I suggest she learns!
Favourite Film: Master and Commander
Favourite food: Fisherman's Pie!
Fishing hero: Not really a hero but it all started with Mr. Crabtree for me – so Bernard Venables
Favourite fishing book: The Longest Silence – Thomas McGuane
Best fishing related joke you have ever heard: Fishing is far too important for jokes but if you insist: Two parrots sitting on a perch. One says to the other: 'Can you smell fish?'
Simon Cooper
My introduction to fly fishing reads like a Mark Twain tale: a neighbouring farmer inherited a few miles of that lovely Hampshire chalkstream, the River Meon and gave me free range over it. Not having a clue about fishing (nobody in my family did) the village doctor was enlisted as my tutor. However, he had no interest beyond a day of free fishing so as soon as we reached the river he abandoned me.
My confident casting, self taught on the lawn at home, soon fell apart confronted with the narrow stream and wild vegetation on the bank. Having lost all my few dry flies I disconsolately rummaged in my bag and found a grubby Bloody Butcher which I proceeded to fish in true wet fly fashion. No doubt F W Halford was spinning like a top in his grave but I didn't care two hoots as within a few minutes I had landed a twelve inch (well probably 10") wild brown trout.
Nearly four decades on I still feel bad about that fish as I knocked it on the head and transported it home with great ceremony. My father soon arrived home having met the Doctor in the pub (I am pleased to report he caught nothing) and our family ate the fish for tea.
Earliest fishing memory: On the village pond for goldfish and being told off by a fearsome old woman who told me I was
being cruel
Dream fishing destination: Falkland Islands
Dry fly or nymph: Whichever the fish are feeding on at that particular moment
Item of fishing tackle to send to Room 101: Braided leaders
Favourite film: Layer Cake
Fishing hero: Dermot Wilson
Favourite food: Sandwiches
Would you teach your wife to fish? I did until she got better
than me
Favourite fishing book: 'Fishing the Dry Fly' by Dermot Wilson
Best fishing related joke you have ever heard: What did the fish say when it swam into a wall? Dam!
Tony Hogg
Tony Hogg is slowing easing his full time career away from his IBM day job that pays the bills to more time teaching and guiding. A native of Hampshire, Tony was born almost equidistant between the Test and Itchen. Despite his illustrious birthplace it took Tony a few years before he was able to fish either with a fly.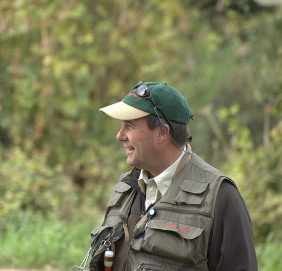 Tony first became keen on fishing in his early teens, going coarse fishing on free fisheries then on local club waters, including the Itchen. He dabbled with fly fishing in the close season, but didn't do fly fishing seriously until his mid 20s when he started on small stillwaters and then lochs and reservoirs before finally moving on to chalkstream fishing.
Earliest fishing memory: Catching immature pollack and coalfish off Scalloway Pier in the Shetland Islands with a bamboo pole rod, string, hook and a bit of mackerel, aged 6
Dream fishing destination: New Zealand or Iceland
Dry fly or nymph: Nymph
Item of fishing tackle to send to Room 101: Fish finders
Favourite film: Monty Python and the Holy Grail
Favourite food: Italian
Would you teach your wife to fish? No
Favourite fishing book: 'How to Fish' by Chris Yates
Best fishing related joke you have ever heard: Two not very bright anglers are out fishing in a boat when they start catching a lot of fish. First angler: "We should make a note of this spot and come back here tomorrow" Second angler: "I'm ahead of you, I've put an X on the side of the boat" First angler: "Don't be daft mate, we might not get the same boat tomorrow!!"
For further details, please complete our enquiry form or e-mail info@fishingbreaks.co.uk