Chalkstream Fly Fishing in Wiltshire
Fishing Breaks offer the widest selection of the very best chalk stream brown trout dry fly and nymph fishing in the county of Wiltshire.
Our rivers | Your guide | Places to stay | Fishing advice and flies | Maps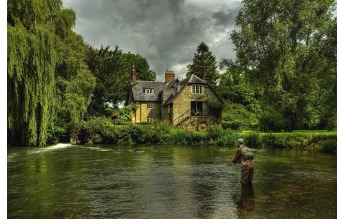 Wiltshire has an amazing chalkstream heritage. It was the home of Frank Sawyer, inventor of the Pheasant Tail Nymph and has the most extraordinary variety of streams like the Nadder and Wylye which are the best kept secrets in dry fly circles.
These two rivers, plus the River Avon, offer a range of choice at great value for anyone who likes to fish alone or with a few friends. The season opens on all the rivers in mid-April with the Mayfly hatch starting in mid-to-late May, with these remarkable insects still around in July.
This is a county that welcomes visitors with world famous landmarks like Salisbury Cathedral on the water meadows of the River Avon and Stonehenge. Many of the villages are lovely places to stay with inns like The Lamb at Hindon or The Angel at Heytesbury.



Our rivers
| | | |
| --- | --- | --- |
| | | |
| | | Franks Sawyer's famous River Avon |
| | | |
| | | The quiet of Wiltshire's sheep grazed valleys |
| | | |
| | | Lovely beat on the River Wylye between Salisbury and Warminster |
| | | |
| | | |

Your fishing guide - Marcus McCorkell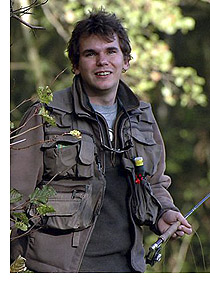 Marcus McCorkell is a great fan of the Wiltshire streams, living as he does on the county border with Dorset.
'Having been bought up in Dorset, the Avon and it's tributaries were an eye opening discovery. The bigger rivers, larger fish and faster flows made me change my tactics. Less of the commando-style stalking on wild streams to more of the leisurely spotting of feeding fish, selecting the right fly and laying a perfect line across the water.'
You may read more about Marcus McCorkell on the Fishing Guides page. If you wish to pick Marcus's brain, email him direct at marcus@fishingbreaks.co.uk All diary and booking enquiries should be made direct to Fishing Breaks.

Places to stay and visit Fly Fishing
Top country pub: The Compasses, Chicksgrove
Top spa hotel: Bishopstrow House, Warminster
Top gastro pub: The Angel Coaching Inn, Heytesbury
Top place to visit: Stonehenge
> View the full Fishing Breaks accommodation guide

Fishing advice and flies
Top 10 Wiltshire Flies:
April
Dark Olive (14/16)

May
Deer Hair Mayfly (8/10)

June
Black Gnat (16-20)

July
Elk Hair Caddis (14)

August
Black Sedge (14) and
GRHE (16-18)

September
Cul de Canard (16-18)
Recommended outfit: 7.5-8.5ft rod, of 3-5wt. Floating line. Tippet to 2lb/8x. Flies size 14-18, barbless or de-barbed.
Maps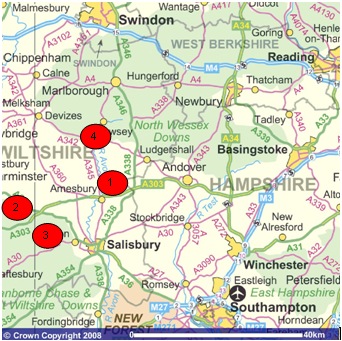 County map
--------------

1 Avon Springs

River Avon

2 Compton Chamberlayne

River Nadder

3 Fisherton de la Mere

River Wylye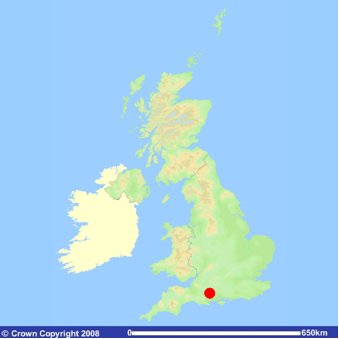 County overview

Fishing Breaks Ltd, The Mill, Heathman Street, Nether Wallop
Stockbridge, Hampshire SO20 8EW
Tel: 01264 781988. Fax: 01264 782590. E-mail: info@fishingbreaks.co.uk