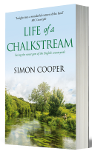 "Insight into a wonderful corner of the land."


Countryfile
My book Life of a Chalkstream is now out in paperback.
Available in bookshops, Amazon and Kindle. To order a signed copy click
here.

The Mill
Heathman Street
Nether Wallop
STOCKBRIDGE
Hampshire SO20 8EW
T: 01264 781988
F: 01264 782590
info@fishingbreaks.co.uk
www.fishingbreaks.co.uk

Chalk stream Fishing
River Wylye
The Wylye rises 5 miles south of Warminster and flows north to the town; this uppermost reach is sometimes referred to as 'The Deverill Brook'. Turning westward, it flows for another 16 miles to join the Nadder just below Wilton, shortly before the latter reaches the Avon at Salisbury a mile or so further on. So, to be exact, the Wylye is the Nadder's tributary rather than the Avon's.
FISHERTON DE LA MERE
This is a lovely beat on the River Wylye between Salisbury and Warminster in the tiny hamlet of Fisherton de la Mere and has been in the same ownership for many years.

For what is regarded as one of the smaller chalkstreams, this beat on the Wylye is surprisingly deep, wide and fast. The fishing is mostly from the bank, though a pair of waders for the very productive Hatch Pool are recommended.

This beat is ideal for one rod or two friends together. There is a comfortable rod room and car parking adjacent to the river.



No. RODS
1-2




9m

8m

3m

"Idyllic setting with wading allowed." "Superb mayfly hatch throughout the day." "Delightful location and owner. Equally delightful fishing - plenty of small wild brownies made for fun."
| | |
| --- | --- |
| April 17 - May 12 | £75 per rod |
| May 13 - June 15 | £129 per rod |
| June 16 - October 14 | £95 per rod |
1-2 Rods
For further details, please complete our enquiry form or e-mail info@fishingbreaks.co.uk