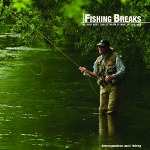 Click
here
to browse brochure
The Mill
Heathman Street
Nether Wallop
STOCKBRIDGE
Hampshire SO20 8EW
T: 01264 781988
F: 01264 782590
info@fishingbreaks.co.uk
www.fishingbreaks.co.uk

Chalk stream Fishing
River Lambourn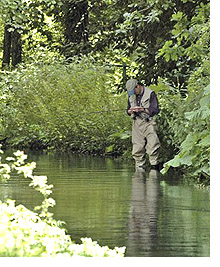 The River Lambourn rises in the Berkshire Downs, just above the famous racing village from which it takes its name. It then flows for some 16 miles more or less directly southeast until it joins the River Kennet at Newbury.
The Lambourn had never featured widely in angling literature until the BBC cricket commentator Howard Marshall, published "Reflections on a River" in 1967. The book has established the Lambourn in the chalkstream lexicon in much the same way that Haig Brown's "My Game Book" or Plunkett Greene's "Where Bright Waters Meet" did for the Frome and Bourne respectively.
Marshall closes the final chapter of his book with the words, 'Simple things – so many of them – make up the angler's true delight. And all of them may be found on the banks of the little River Lambourn.'
DONNINGTON GROVE

A decade ago the River Lambourn would barely have featured on anyone's chalkstream radar but it is a river with a rising reputation. Thanks to the combined efforts of enthusiastic owners, keen anglers and funding from the Environment Agency it has improved in leaps and bounds.

Always clear and fast flowing this Berkshire gem is the perfect stream for the wild brown trout that are thriving. If you like easy wading to sight fish with nymph or dry as the conditions demand, this is the place to head for.
This beat is ideal for one Rod or two friends fishing together.

| | |
| --- | --- |
| April 16-May 16 | £100 per Rod |
| May 17-June 14 | £140 per Rod |
| June 15-July 31 | £100 per Rod |
| August 1-October 15 | £80 per Rod |
| Grayling October 16-December 31 | £55 per Rod |
For further details, please complete our enquiry form or e-mail info@fishingbreaks.co.uk

Fishing Breaks Ltd, The Mill, Heathman Street, Nether Wallop
Stockbridge, Hampshire SO20 8EW
Tel: 01264 781988. Fax: 01264 782590. E-mail: info@fishingbreaks.co.uk