Chalkstream Fly Fishing in Berkshire
Fishing Breaks offers the widest selection of the very best chalk stream brown trout dry fly and nymph fishing in the county of Berkshire.
Our rivers | Your guide | Places to stay | Fishing advice and flies | Maps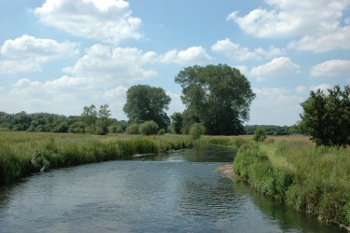 The undulating Lambourn Downs are the chalk hills that feed the lovely streams of Berkshire. The Rivers Kennet Lambourn, Loddon and Pang are best known for their clear, cold water, which creates the ideal spawning conditions for wild trout and grayling.
Fishing Breaks has three beats on the two main rivers. Benham Estate and Barton Court on the River Kennet and Donnington Grove on the River Lambourn. The latter is a great stream for wading and sight fishing, while the other two offer a huge variety of main river, side streams and carriers in which you can truly lose yourself.
The season on the Lambourn opens in mid-April and at the start of May on the Kennet. Expect a good hawthorn hatch early on, followed by a stupendous mayfly hatch and then a mixture of olives, sedges and terrestrials later in the year.
All the beats are are easy to reach from the M4 and are an hour from London Paddington by train.



OUR RIVERS
| | | |
| --- | --- | --- |
| | | Three miles of carriers, side streams, pools and main river. |
| | | |
| | | |
| | | Miles of varied fishing in two independently run fisheries. |
| | | |
| | | Easy wading and sight fishing in clear, fast-flowing water. |
| | | |

Your fishing guide - John Stephens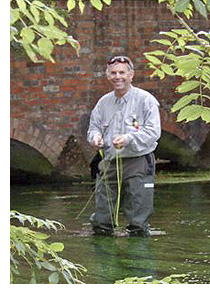 John has lived amongst the streams of Berkshire for many years and has grown to know them better than any other guide. He says of the streams of this royal county, 'The River Kennet is rated by many to be as good as the Test and the mayfly hatches can be so heavy that they look like a snowstorm. The Lambourn has the coldest and crystal-clear water of any chalkstream in the country, the wild fish grow to about 1lb with a monster at 1lb 4oz and the flies used can be as small as size 22 - dry fly fishing at its best.'
You may read more about John Stephens on the Fishing Guides page. If you wish to pick John's brain, email him directly at john@fishingbreaks.co.uk All diary and booking enquiries should be made direct to Fishing Breaks.

Fishing advice and flies
In broad terms the fishing season runs from May to September. The hawthorn hatch generally coincides with the opening week, with the mayfly running from mid-May to the end of the second week in June. There are no easy pickings in the second half of the season, but small flies, delicately fished are the secret weapons.
Top Berkshire Flies:
April
Greenwell's Glory (16)
Hawthorn (14)

May
Thomas Mayfly (10)

June
Greenwell's Glory (16)
GRHE (16-18)

July
Tups Indispensable (14-16)
PTN (16-18)

August
Spurwing (14-16)
GRHE (16-18)

September
Pale Water Spinner (16)
Recommended outfit:
7.5-8.5ft rod, of 3-5wt
floating line
tippet to 2lb/6x
all flies to be barbless or de-barbed

Places to stay and visit
Top Riverside Pub – The Dundas Arms, Kintbury
Top Country Pub: The Queens Arms, East Garston
Top Spa Hotel: The Vineyard at Stockcross
Top Gastro Pub: The Yew Tree Inn, Highclere
Top Place Visit: Highclere Castle (Downton Abbey), Newbury
> View the full Fishing Breaks accommodation guide

Maps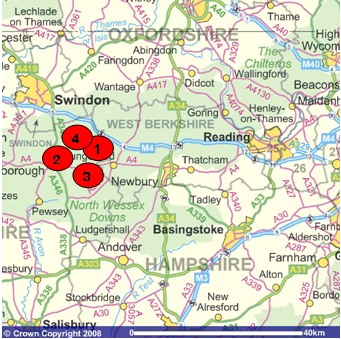 County map
-------------
1 Donnington Grove
2 Barton Court
3 Benham Estate
4 Private Label No. 2

River Lambourn
River Kennet
River Kennet
River Lambourn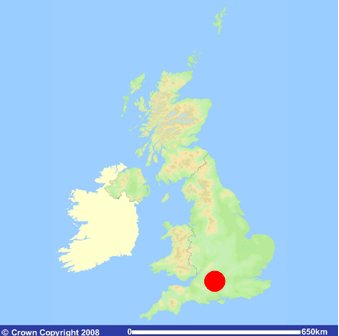 County overview