2014 RIVER TEST ONE FLY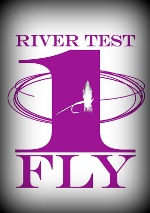 The River Test One Fly will be back for a sixth year on Friday April 25th once again hosted by kind invitation of The Peat Spade, Hampshire's leading sporting inn.
The One Fly is open to all-comers as teams of three or individuals. The fishing day runs from 10am-4pm, with a welcome breakfast and beat draw taking place at The Peat Spade at 8.15am with the prizes handed out over tea at 5.30pm. All fish are released and all competitors are accompanied by a Fishing Guide who acts as guide, scorer and confidante.
It is a tremendous day – I hope you can make it. Click here for the entry form.
About the One Fly
The idea for the River Test One Fly was conceived by Fishing Breaks founder Simon Cooper having competed in the American equivalent since 2005. Though he has never come close to winning, every year Simon makes the 5,000 mile trek to Wyoming with ever increasing excitement. For this is a contest that pits man against man and fish against fly – it is an unequal contest as the trout always win, but you can share the passion of one of the world's truly great fly fishing events which is now held in England, the home of fly fishing.
But the clue to the difference to other fly fishing tournaments is in the name - the One Fly is exactly that – at 10am every competitor selects and ties on the fly that must last all day – lose it and you're out! Points are awarded on a sliding scale according to the number and length of fish caught. There are no cash prizes – just the glory and kudos of winning.
THE STORY OF THE 2013 ONE FLY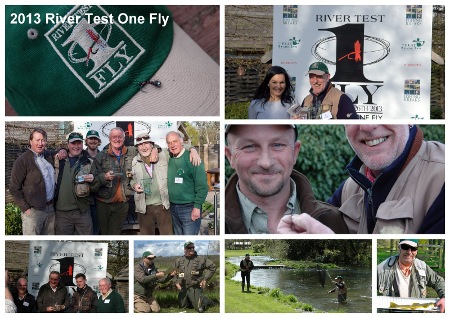 WINNING TEAM Of all the possible results, a tie for first place was something unexpected. 2011 winners the Dream Team tied with FlyFishMap with 1510 points apiece.
1st= Dream Team Geoffrey Palmer, Chris Tarrant & Chris Sandford
1st= Fly Fish Map Ed Burgass, Grenville Herrald & Struan Wallace
3rd Minley Manor Moustaches Grant Harrower, Mark Surtees & Paul Quillam
TOP ANGLER & GUIDE Mark Williams is a fourth time contestant to the One Fly and he shot up the table from 19th last year to win with 33 fish guided by first time guide, Stuart Tanner. They fished Whitchurch Fulling Mill using a Black Pheasant Tail nymph variant with a tungsten bead.
1st Mark Williams/Stuart Tanner 1115pts
2nd Paul Quillam/Nick Parish 860pts
3rd Geoffrey Palmer/Brian Robinson 795pts
TOP ESTATE This was a repeat of 2011 for the first two places, with rookie estate The Boathouse putting in a great showing for third.
1st Whitchurch Fulling Mill
2nd Compton Chamberlayne
3rd The Boathouse
DUFFERS DELIGHT Gerry and The Atrics team were back as two times defending last place champions but they had to relinquish the trophy to The Peat Spade, who took the award in good heart.
WILD TROUT TRUST Our nominated charity collected a cheque for £280
TOP FLY The Pheasant Tail Nymph was the most used pattern (12) and a Gold Ribbed Hares Ear (7) the second most popular.
TOP DRY FLY The Robjents Daddy Long Legs fished by Alistair Robjent took the prize on a difficult day for a dry fly
BIGGEST FISH The pot was £560 half of which goes to Wild Trout Trust. Mark Williams won with a 23" fish from Whitchurch Fulling Mill
Special thanks must go to all the river owners who very kindly gave up their beats for the day. Paula, Zdenka and all the team at The Peat Spade for providing a wonderful venue. Guide Captain Peter Roberts, Alan Middleton, Diane Bassett and all the crew that made it happen. Photos kindly provided by Guy Cragoe

Past Winners
2011 Results
| | |
| --- | --- |
| Team: | Dream Team |
| Angler: | Ed Burgass |
| Guide: | Nick Parish |
| Estate: | Whitchurch Fulling Mill |
| Fly: | Pheasant Tail Nymph |
2010 Results
| | |
| --- | --- |
| Team: | Onlinefishing TV |
| Angler: | Jeremy Croucher |
| Guide: | Chas House |
| Estate: | Whitchurch Fulling Mill |
| Fly: | PTN/GRHE combo |
2009 Results
| | |
| --- | --- |
| Team: | The Field |
| Angler: | Nick Zoll |
| Guide: | Marcus McCorkell |
| Estate: | Wherwell Priory |
| Fly: | Gamarus |
2008 Results
| | |
| --- | --- |
| Team: | Trout & Salmon |
| Angler: | Howard Taylor |
| Guide: | Howard Bennett |
| Estate: | Wherwell Priory |
| Fly: | Pheasant Tail Nymph |



2009 Team Scores PDF file
2009 Guide Scores PDF file
2009 Individual Rankings PDF file
2008 Team Scores PDF file
2008 Guide Scores PDF file

Press articles
2014 Entry Form
Date of competition: Friday April 25th
Entries close: All places are now filled.
Individual entries will be allocated a team by the organiser. Any special requests will be fulfilled if possible. For team entries names may be changed/left open until 28 days prior to the competition. The cost of entry is £295/person. (£250 for RTOF Founder Members). The organiser will contact you for payment.
Our Supporters
The River Test One Fly could not happen without the help of a great many people - apologies to anyone accidentally omitted.
Benham Estate
Broadlands - Neil Freeman & Jon Hall
Compton Chamberlayne Estate - John Newman
Fisherton de la Mere – Robin Thompson
Dunbridge – Jo O'Brien
Donnington Grove Country Club
Orvis Co.
The Boathouse – Eva & Nick Gordon-Creed
The Parsonage - Jan Grimstone
Wherwell Priory - James & Clare Hogg
Whitchurch Fulling Mill - Tim & Sappho Dutton

Rules and scoring
Teams
a) Each team will consist of three contestants. Teams may substitute contestants anytime until the morning of the competition. Individual contestants are welcome to enter & will be allocated a team by the organiser.
b) Only one member of a team may be a professional full-time or part-time fresh or saltwater fly fishing instructor or guide. A professional is defined as anyone who, within the last 3 years, has received income for services performed as a fly fisher.
Equipment
a) Type of rod and fly reel is the choice of the contestant.
b) The use of fly floatant, leaders or other accessories will be at the discretion of the contestant. Only floating lines are permitted
c) No real or artificial fish attractants, such as scents, are allowed.
Event Flies
a) Any conventional dry or nymph pattern may be used as long as it is no larger than size #10.
b) Lead or other metal-moulded heads, cone heads and dumbbell lead eyes are prohibited. Tube flies are prohibited. A fly with a single metal or glass bead is allowed.
c) Flies must be tied on a single barbless hook or on a hook with the barb pushed down.
d) Contestants may select a different fly for the morning (10am-1.15pm) & afternoon (1.15pm-4.30pm) sessions. Morning & afternoon flies are not interchangeable.
e) Contestants must inform the Guide of their chosen fly by 10am/1.15pm & submit it for the approval of the Guide.
f) Repair of flies may only be done with the use of glue or any adhesive. Any re-tying of the fly with thread or fly tying materials is prohibited. Broken hooks may be honed or filed to a usable sharpness via any sharpening tool.
g) Traditional strike indicators are allowed. Flies, even those with broken hooks, are not allowed to be used as indicators. Only a single fly may be attached to the leader.
Fishing Procedure
a) All trout species will be counted in the scoring. No other fish species will be counted.
b) The only permitted fishing method is upstream dry fly or nymph.
c) Fishing hours are 10.00am-4.30pm.
d) With the permission of the fisherman who has a fish 'on the line', team partners may assist in landing any fish to be scored in the event.
e) If a contestants' fly becomes caught in tree, branch or snag, it may be recovered and reattached to the leader. The contestant may continue fishing in the event.
f) The morning or afternoon session scoring ends for a contestant when his official fly becomes irretrievably lost. That person may continue to fish for the remainder of the session, but no fish caught after the contest fly is lost will count for that sessions' scoring.
g) Contestants may not, under any circumstances, swap or exchange flies or rods with other contestants or team members.
Sharing a beat
a) Contestants will mutually agree how to share a beat & observe the customary chalkstream etiquette.
b) Guides are not allowed to assist other contestants.
Duties of the Guide
a) The Guide is solely responsible for the contestant allocated to him or her & will not assist, advise or collaborate with other contestants or Guides during fishing hours.
b) The Guide may assist in netting the fish if the contestant so requests
Dispute Resolution
a) In the event of a dispute the decision of Official Referee will be final.
Scoring
a) To be counted in the score, the angler or Guide, must touch the leader whilst a trout is 'on' and then that fish is counted 15 points.
b) Each contestant will be allowed to select six (6) trout to measure during the day. All trout not selected for measurement will be released immediately, preferably without removing them from the water.
c) Measurement should be done in gutter provided by the Guide & the score recorded by the Guide. Any fish length will be rounded to the next full inch e.g. 17 ¼" equals 18" for scoring purposes.
d) Any fish killed will not count to the points total, for whatever reason killed.
e) Each for the six (6) fish for bonus scoring by a contestant will be scored as follows: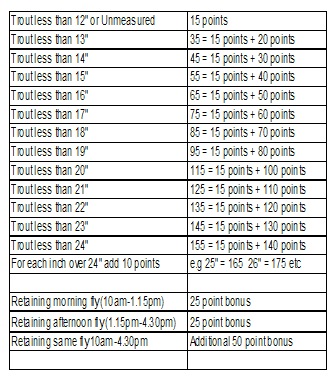 Contact us
River Test One Fly HQ
Nether Wallop Mill
Stockbridge
Hampshire
SO20 8EW
T: 01264 781988
E: info@rivertestonefly.co.uk


Fishing Breaks Ltd, The Mill, Heathman Street, Nether Wallop
Stockbridge, Hampshire SO20 8EW
Tel: 01264 781988. Fax: 01264 782590. E-mail: info@fishingbreaks.co.uk