2015 RIVER TEST ONE FLY
The River Test One Fly will be back for a seventh year on Friday April 24th hosted by kind invitation of Lucy and all the team at The Greyhound on the Test in Stockbridge.
The One Fly is open to all-comers as teams of three or individuals. The fishing day runs from 10am-4pm, with a welcome breakfast and beat draw taking place at The Greyhound at 8.15am with the prizes handed out over tea at 5.30pm. All fish are released and all competitors are accompanied by a Fishing Guide who acts as guide, scorer and confidante.
It is a tremendous event – I hope you can make it. Click here for the entry form.

SPECIAL INVITE: Following the success of last year's first ever screening of the Fly Fishing Film Tour all participants are invited to the second annual show that features six of the best short films from around the globe. Last year's premiere was a huge hit, so register early for your free ticket. simon@fishingbreaks.co.uk Numbers are limited. Guests £15. Thursday 23rd April. Doors open 6.30pm. Show starts 7pm.
The Hatch Room, Grosvenor Hotel, High Street, Stockbridge, SO20 6EU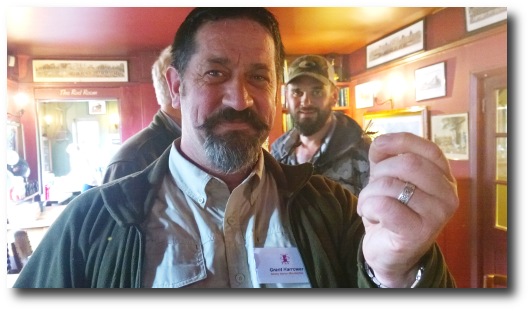 Grant Harrower with his winning (but shredded!) Daddy Long Legs
About the One Fly
The idea for the River Test One Fly was conceived by Fishing Breaks founder Simon Cooper having competed in the American equivalent since 2005. Though he has never come close to winning, every year Simon makes the 5,000 mile trek to Wyoming with ever increasing excitement. For this is a contest that pits man against man and fish against fly – it is an unequal contest as the trout always win, but you can share the passion of one of the world's truly great fly fishing events which is now held in England, the home of fly fishing.
But the clue to the difference to other fly fishing tournaments is in the name - the One Fly is exactly that – at 10am every competitor selects and ties on the fly that must last all day – lose it and you're out! Points are awarded on a sliding scale according to the number and length of fish caught. There are no cash prizes – just the glory and kudos of winning.
THE STORY OF THE 2014 ONE FLY
There are a handful of days in the chalkstream season when it rains from dawn to dusk and yesterday just happened to be one of those. After five straight years of great River Test One Fly weather the gods scowled on us effectively blowing out many of the beats lower down the river and making it tough just about everywhere.
But to confound everyone, in the worst conditions ever, a dry fly won the competition, ending five straight years of a nymph. All credit to Grant Harrower for choosing a Daddy Long Legs and sticking with it, leading his team the Minley Manor Moustaches to collect the winning team trophy preventing the Dream Team making it three years on the trot.
The Estate prize went to The Boathouse which is just downstream of Wherwell Priory on the River Test. But it was a close run thing just shading Compton Chamberlayne on the Nadder by two points, which made it a second year of being second. A special mention to newcomer Avon Springs on the Avon who were third.
First time One Fly entrant Michael Jacobsen, who has travelled from Scandinavia to compete, shared the Big Fish award with Grant Harrower who both caught a 23" trout raising £500 for our chosen cause this year Fishing for Forces.
This year 154 fish trout were caught, including two sea trout, all of which were released unharmed. We owe a huge thank you to all our river owners for kindly giving their fishing up for the day, The Peat Spade for being such wonderful hosts and to everyone for fishing the day in the spirit of what makes our chalkstreams so very special.
See you in 2015!

WINNING TEAM
| | | | |
| --- | --- | --- | --- |
| 1st | Minley Manor Moustaches | Grant Harrower, Simon Mallaby & Paul Quillam | 1850 points |
| 2nd | TheWellowWaderWallowers | Darren Dodd, Wes Boyd & Chris Banks | 1195 |
| 3rd | Stream Dreamers | John Graham, Anthony Edwards & Dan Brown | 1160 |
TOP ANGLER & GUIDE
| | | |
| --- | --- | --- |
| 1st | Grant Harrower/Clayton Moorhouse | 1545 points |
| 2nd | George Stephenson/Charlie Patrick | 865 |
| 3rd | Wes Boyd/Philip Ellis | 835 |
TOP ESTATE
| | |
| --- | --- |
| 1st | The Boathouse (River Test) |
| 2nd | Compton Chamberlayne (River Nadder) |
| 3rd | Avon Springs (River Avon) |
DUFFERS DELIGHT
The Peat Spade were back as defending last place champions and they picked up the trophy again taking it all in good spirit.
FISHING FOR FORCES
Our nominated charity collected a cheque for £500
TOP FLY
The Pheasant Tail Nymph was the most used pattern but the run away points winner was the dry fly in the form of a Daddy Long Legs that scooped top prize.
BIGGEST FISH
This was shared by Michael Jacobsen (River Avon) and Grant Harrower (River Test) who both measured a 23" fish on their respective beats.
Past Winners
Team

Angler

Guide

Estate

Fly

Results
in Full

2014

Minley Manor Moustaches

Grant Harrower

Clayton Moorhouse

The Boathouse

Robjents Daddy Long Legs

2013


Dream Team/Fly Fish Map


Mark Williams

Stuart Tanner

Whitchurch Fulling Mill

Pheasant Tail Nymph

2012

Not contested - London Olympics and Diamond Jubilee year

2011

Dream Team

Ed Burgass

Nick Parish

Whitchurch Fulling Mill

Ducking Feadly

2010

onlinefishing.tv

Jeremy Croucher

Chas House

Whitchurch Fulling Mill

Pheasant Tail Hare's Ear

2009

The Field

Nick Zoll

Marcus McCorkell

Wherwell Priory

Gammarus

2008

Trout & Salmon

Howard Taylor

Howard Bennett

Wherwell Priory

Pheasant Tail Nymph

Press articles
2015 Entry Form
Date of competition: Friday April 24th
Entries close: 31st January 2015
Individual entries will be allocated a team by the organiser. Any special requests will be fulfilled if possible. For team entries names may be changed/left open until 28 days prior to the competition. The cost of entry is £295/person. (£250 for RTOF Founder Members). The organiser will contact you for payment.
Our Supporters
The River Test One Fly could not happen without the help of a great many people - apologies to anyone accidentally omitted.
The Greyhound on the Test
Robjent's
Peter Roberts, Diane Bassett, Alan Middleton, Kelly Compton & Simon Fields
Avon Springs – Barrie Bawden
Benham Estate – Richard Sutton Settled Estates
Broadlands - Neil Freeman & Jon Hall
Bullington Manor – The Bond Family
Compton Chamberlayne Estate - John Newman
Dunbridge – Jo O'Brien
Donnington Grove Country Club
Fisherton de la Mere – Robina Thompson
Orvis Co.
School Farm – Caspar Macdonald-Hall
The Boathouse – Eva & Nick Gordon-Creed
The Parsonage - Jan Grimstone
Wherwell Priory - James & Clare Hogg
Whitchurch Fulling Mill - Tim & Sappho Dutton


Rules and scoring
Click here to open PDF of the rules and scoring
Contact us
River Test One Fly HQ
Nether Wallop Mill
Stockbridge
Hampshire
SO20 8EW
T: 01264 781988
E: info@rivertestonefly.co.uk