TV and Press
TV shows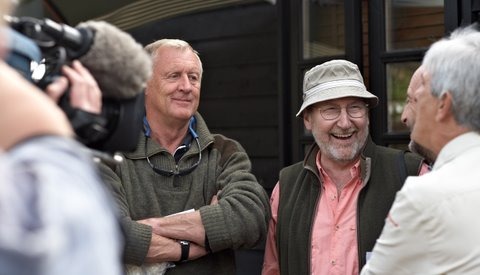 The Game Fisher's Diary 'Put to the Test' – May 2010
Rae Borras experiences the very best of chalkstream fishing at Bullington Manor.
The Game Fisher's Diary 'Just One Fly' – April 2010

Watch the highs and lows of the 2010 River Test One Fly
Press articles
You can view the following PDF files with Adobe Acrobat.
In search of wild 5lb trout on the River Frome.





Editor Andrew Flitcroft charts his two attempts at the One Fly.





Simon Cooper tells of how good came from the winter floods





A look at FM Halford, father on dry fly fishing, on the 100th anniversary of his death





Irish Country Sports and Country Life – Spring 2014
Simon Cooper ponders on why we fly fish and in particular the 100th anniversary of the death of F M Halford, father of modern dry fly fishing.




Trout & Salmon - December 2013
Editor Andrew Flitcroft picks his" Wish you were here?" chalkstream





David Profumo visits Cotton's Fishing Temple on the River Dove




Editor Mark Hedges tells of a great day on the River Kennet




The Vintage Magazine - September 2012
Where the Bright Waters meet - Fishing Heaven.

Wiltshire magazine - August 2012
Catching the evening rise on the River Nadder




Fieldsports magazine – Spring 2012
Simon Cooper on the magic of Mayfly



Dr. Jasmin Fisher visits from Germany - September 2011
In German
Chris Tarrant on his winning day and winning ways.
About the 2011 River Test One Fly contest.
About the 2011 River Test One Fly contest.
Fly Fishing & Fly Tying – July 2011
A member of the winning 2011 River Test One Fly team shows you how to tie the fly he used.
"Learn In The Cradle Of Fly Fishing" at Fishing Breaks!
Fishing Breaks founder Simon Cooper's article "The Only Ten Flies You Will Ever Need"
Adrian Delnevo celebrates a day at Bullington Manor
Chris Sandford ties the flies and fishes the fly for The Dream Team
Fly Fishing & Fly Tying – October 2009
A Guides eye view of the 2009 River Test One Fly
The Field Magazine – July 2009
Editor Jonathan Young recounts with great hilarity the how his team lifted the trophy.
Country Life Magazine – May 2009
David Profumo tells all from the River Test One Fly competition
Hampshire County Magazine – March 2009
The county boasts about its famous River Test
The Field Magazine December 2008
Robert Jarman picks his trout fishing 'Objects of Desire'
Trout and Salmon Magazine May 2008
Andy Anderson on the famous Halford water
Country Life Magazine May 2008
Country Life editor Mark Hedges spills the beans
Financial Times January 2008 - 2.5mb
Fear of Flying – The FT's Richard Donkin tells why he is fishing the River Test One Fly in April.
The Guardian Newspaper - May 2007 - 1.8mb
The Guardian's Ian Katz takes the One Day Foundation Course at Nether Wallop Mill with surprising results.
The Field Magazine - May 2006 - 11.7mb
Buy a Chalkstream Day – The Field show where to book a day in paradise.