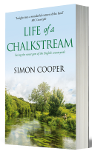 "Insight into a wonderful corner of the land."


Countryfile
My book Life of a Chalkstream is now out in paperback.
Available in bookshops, Amazon and Kindle. To order a signed copy click
here.

The Mill
Heathman Street
Nether Wallop
STOCKBRIDGE
Hampshire SO20 8EW
T: 01264 781988
F: 01264 782590
info@fishingbreaks.co.uk
www.fishingbreaks.co.uk

All Chalkstreams
Over twenty five years I have gathered the largest and most extensive portfolio of the very best chalkstream fishing England has to offer. From the wild streams of Dorset, to the famous River Test and the little known becks of East Yorkshire I have the pick of them.
In my search I have been lucky enough to fish each and every one, visiting the dedicated owners and river keepers who care for these unique rivers that barely exist outside the Britain.
So if you want an honest and first hand account don't hesitate to email me directly simon@fishingbreaks.co.uk
BROWN TROUT

Chalkstreams

Limestone Rivers