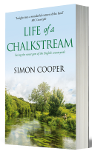 "Insight into a wonderful corner of the land."


Countryfile
My book Life of a Chalkstream is now out in paperback.
Available in bookshops, Amazon and Kindle. To order a signed copy click
here.
FEATURED FOR SEPTEMBER

TOP 5 BEATS FOR BIG CASTING
If you want to break out your #6/7 rod to target those 'out-of-reach' fish on the other side of the river, these are the beats to head for this month:
Benham Estate
(River Kennet)
Broadlands
(River Test)
Mottisfont Abbey
(River Test/Main beat)
The Parsonage
(River Test)
Timsbury
(River Test)
GRAYLING
Now booking for 2015/16 with beats on seven rivers in five counties. Visit my dedicated
grayling page
.
NEWS & SPECIAL OFFERS
Keep in touch with all the news, reports and special offers on the chalkstreams with my bi-weekly
Life of a Chalkstream
newsletter.
Click here
to read the latest edition or sign up.


The Mill
Heathman Street
Nether Wallop
STOCKBRIDGE
Hampshire SO20 8EW
T: 01264 781988
F: 01264 782590
info@fishingbreaks.co.uk
www.fishingbreaks.co.uk

Corporate & Group Days
Fishing Breaks offers a wide selection of days for groups and small corporate parties.
Each day is hosted by Fishing Breaks founder, Simon Cooper who will welcome your guests to some of the most exclusive and beautiful private fishing beats in southern England. The service on the day will be exemplary, with the team of friendly and expert Fishing Breaks Guides on hand to look after your party with tackle and flies provided.

Fully catered & guided days

This is a day when you as the host will be able to relax every bit as much as your guests as Fishing Breaks founder Simon Cooper will be on hand with his team of guides. The package includes breakfast, lunch and afternoon tea, plus all drinks. Tackle and flies are supplied at no extra charge along with Wellington boots for those who need them.
River Test, Hampshire
The season runs from May to September. Prices start from £2,250 for a group of six. Options for parties of 4-12 on request.
Nether Wallop Mill, Stockbridge, Hampshire
Our trout lake is open from April to October. The price is £975 for a group of six. Options for parties of 4-10 on request.


Fishing days

Arrive to the smell of fresh coffee and bacon rolls at the Fishing Cabin with your Fishing Guide setting up the rods for the day. The package includes breakfast and one Guide with tackle and flies supplied at no extra charge. Additional guides available if required.
River Test, Hampshire
Prices start from £1,045 for a group of four. Options for parties of 2-12 on request.
Nether Wallop Mill, Stockbridge, Hampshire
Price start at £525 for a group of four. Options for parties of 2-10 on request.



Cast & Blast

Combine clay pigeon shooting with fishing. Prices from £150/head.


Bespoke fishing days

With great fly fishing venues in Berkshire, Dorset, Gloucestershire, Hampshire and Wiltshire we organise all manner of events from birthdays, celebrations, stags, team building and development days.


Further information
Season: The season runs April to October, with the prime months being May, June and July. The famed Mayfly hatch takes place from mid May to early June.


Event day: The usual fishing day will run from 9am-6pm, with the option to stay later. We'll meet at the fishing cabin for breakfast, then head out to the river for the remainder of the day retuning for lunch and tea. The Guides will pack and prepare any fish to be taken home.

Catering: Our chef prepares and serves from a delicious menu. The day includes coffee and bacon rolls on arrival, lunch, afternoon tea, plus fine wine and beers all included in the price. Here is a sample menu:

* * *
English asparagus, quails egg and parmesan salad

* * *
Roast sirloin of beef, served pink with horseradish dressing.
Oriental chicken with vegetables, noodles and a sesame, soy and ginger dressing

* * *
Raspberry pavlova with red berry coulis

* * *
Cheese board with Port

* * *
Coffee


Facilities: We pride ourselves in hosting your day at a beautiful riverside setting. All our beats have a fishing cabin beside the water, seating on the river bank, WC and car parking close to the river.

Fishing Guides: We know from experience that the key to the day is how your guests are looked after and our Guides are second to none. Not everyone will be an expert angler, but our Guides are fully qualified instructors so will be ready to look after novices or anyone who requires help.

Fishing tackle: All new top-of-the-line Orvis rods, reels, lines, nets and flies which are provided free of charge along with fishing waistcoats, wellington boots, hats and fishing glasses.

Travel & places to stay: We will offer advice on a host of excellent country inns and hotels within easy reach of the fishing, plus train links, taxis and directions.
For further details, please complete our enquiry form or e-mail info@fishingbreaks.co.uk