Overseas Destinations
Fishing Breaks, in association with Roxtons, are delighted to offer a huge variety of the best freshwater and saltwater destinations around the globe.
Choosing a partner in whom we have absolute trust to deliver your fishing trip of a lifetime is not easy task, but in Roxtons I think we have made the ideal choice. Charlie White, who runs the fishing operations, is every bit as hands on as I am; he knows the rivers, he knows the lodge owners, he knows the guides. He is as passionate about your fishing as you are – you can't ask for more.
If you would like more advice on planning your trip please contact myself Simon Cooper at Fishing Breaks or Charlie White direct at Roxtons.

Atlantic Salmon – the pursuit of Atlantic Salmon provides the perfect opportunity to explore some of the great untouched wildernesses of the northern hemisphere.

Sea Trout – travel to the southernmost point of Argentina to fish on rivers where the guides consider a 15lb fish a tiddler

Saltwater – those big, bad bonefish have a habit of turning up the in most beautiful tropical locations, that can double up as a luxurious family holiday destination.

Steelhead – some will argue steelhead are the strongest fish you will catch on a fly and set against the backdrop of the Rockies it is a tussle you will remember for years to come.

Pacific Salmon – huge fish in equally huge numbers.

Scottish Lodges – forget draughty castles and tepid bath water. These are sporting lodges in the grand Edwardian style with every modern convenience.
Atlantic Salmon
You are spoilt for choice when it comes to places for Atlantic salmon, but I would pick out Iceland, Norway and Russia as the three to consider above all others.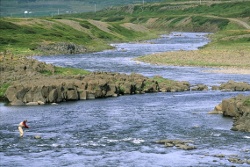 Iceland – "the land of fire and ice" offers fishermen the unique chance to stalk salmon in gin clear waters with 6 weight rods. It is Mayfly fishing on the Test but for salmon and is some of the most exciting fishing in the world with extraordinary scenery. It is expensive but does provide the chance to catch salmon on a fairly reliable basis without having to travel as far as Russia, with it being possible to take rods for just 3 days which makes a long weekend a great getaway.
Nearly all of the rivers are catch and release but on the south coast, the Ranga systems offer the chance to catch a lot of fish (think 5-6 salmon per rod per day) and as they will not spawn (stock is augmented by smolt release programmes) catch and kill is encouraged – a side of wild smoked salmon makes an excellent Christmas present! Click for details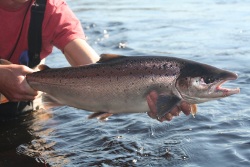 Russia – the place to learn how to fish for salmon. There are lots of superlatives written about salmon fishing in Russia but the key point to fishing out there is that it will give you a chance to fish on rivers that still have a huge amount of Atlantic salmon in them. Some rivers average 35 fish per rod per week which is just not achievable anywhere else in the world. Is it too easy? No! Every one of these fish will be hard earned and a bad cast will not catch a fish.
The pioneers of fishing in Russia had to put up with mosquitoes, bad food, rough accommodation and a lot of walking. Now that the seasons are properly understood and there have been years of investment, you can expect comfortable camps, fabulous food, a fleet of jet boats and perhaps most importantly it is very rare to see mosquitoes now. The rivers are only fished in the peak times of the run which is primarily before the mosquitoes come out in force. It remains one of the world's great wildernesses and offers fishing that even our grandfathers could only dream about. Click for details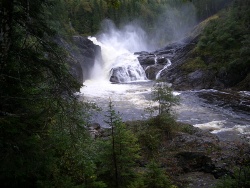 Norway – the home of the big fish. Iceland and Russia are mostly about grilse and lots of them. Norway is about salmon and not many of them. Forget multiple catches in a day, this is the place to be if you want to catch a seriously large fish. Fish of up to 50lbs are not uncommon and it is probably the only place in the world where you can write that sentence about Atlantic salmon.
Good lodges, great guides and a culture based on the countryside and country sports makes Norway a very comfortable place to visit. Click for details
Sea trout
Tierra Del Fuego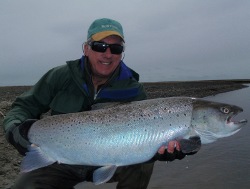 There is nowhere else in the world that offers sea trout fishing such as that you can find in Tierra Del Fuego, the southernmost point of Argentina. A sea trout of 15lbs is released back to the river with a mere smile from your guide and it is only when they start to break the 25lbs mark do they get remotely excited. It is a long way to go and it can be windy but the fishing on its own would be worth it. As it happens, as well as the fishing you get lodges that are some of the most comfortable you can find and the food (a lot of steak!) is sensational.
Throw in a few nights in Buenos Aires, some tango, epic quantities of Malbec and you have a destination that is worth travelling to. Click for details

Saltwater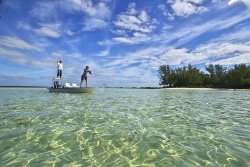 The most difficult decision you have to make here is family or no family. If it is the former then the Bahamas is a shoe-in, otherwise Cuba is a must.
Bahamas - Long before bonefish were targeted on the fly, the Bahamas was a top class destination to go for a holiday. Now that the flats fishing has been properly understood and developed, the Bahamas offers arguably the best chance for the travelling fisherman and the non fisher to have just as good a time as each other.
With the economy remaining difficult and time out of the office precious, the chance to have a joint holiday where you can catch the legendary bonefish and still come back to a big smile as opposed to a decree nisi is one that should not be dismissed. It is easy to get to, comfortable and has some excellent fishing. Joint holiday are tough to get right, the Bahamas makes those decisions much easier. Click for details
Cuba – the home of Fidel Castro, Havana, cigars and epic fishing. Many say there is nowhere in the world that offers better fishing than Cuba and it is at the top of "must do" destinations for serious fishermen. Getting to the fishing in Cuba is not that easy and the accommodation varies from standard to basic (with some notable exceptions) so it is arguably not the place to take a non fisher but it is paradise for those who want to target endless amount of species on the fly – your top three are likely to be bonefish, tarpon and permit.
It won't be that long before Cuba is opened up to American travellers, which in turn will create massive changes. It is really worth seeing Havana and the fishing before that happens. Click for details

Steelhead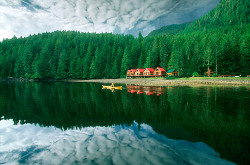 British Columbia - some argue that steelhead are the strongest fish you can catch on a fly. When you have watched most of your backing disappear on a fish that turns out to be just over 10lbs you might agree! The best of the fishing tends to be in the Rockies and so the scenery is, by default, simply superb.
The guides are all real mountain men and take their fishing and their casting very seriously – your own fishing will almost certainly improve having been there for a week. Steelhead fishing in not a numbers game and 1 fish a day to the bank is good going but they are magical creatures and you will remember every single one of them. Click for details

Pacific salmon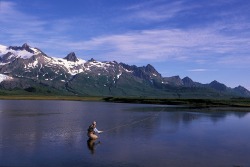 Alaska – more documentaries are made about fish in Alaska than anywhere else in the world. There is a good reason for that – the amount of fish here is simply beyond comprehension. If you want to land big numbers of fish in a week, whilst enjoying wonderful scenery and varied fishing then this is the place for you. The best option are fly out lodges where your guide is also your pilot and flies you to a different river each day, banking as he goes to see where the run of salmon exactly is in the river you are flying over – if you both like the look of it you simply land and start fishing.
It is the perfect place to take a novice or perhaps a son in order to get them into fishing as no one's attention will be lost when their rod is constantly bent. Bears and wildlife that are simply hard to find elsewhere make up a big part of the attraction. Click for details

Scotland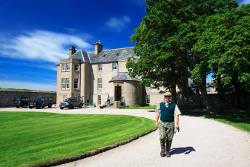 Scottish lodges – are these the last bastion of civilisation as we know it?! Possibly! The Edwardians made fishing and shooting in Scotland popular and ever since, the sport in this fabulous country has been coveted worldwide and is much sought after. Salmon fishing was pretty much invented here, grouse shooting is a large driver of the local economy still and stalking remains some of the best value sport you can find in the British Isles.
Forget castles with no heating and peat brown water with a scary housekeeper – today the lodges are comfortable, warm and offer the perfect base for a family week where everyone can get involved in the sport – from rabbit shooting to trout fishing to stalking a Royal. It remains a very hard destination to beat. Click for details